Department of Orthopedic Surgery
We are committed to advancing orthopedic education, research, and patient care.

The mission of the Department of Orthopedic Surgery at NYU Grossman Long Island School of Medicine is to provide the foundation for a lifetime of medical learning and practice of orthopedic surgery. Our goal is to produce graduates who exemplify the highest ideals of our profession. It is our vision to excel in clinical service, medical education, and musculoskeletal research while maintaining the highest ethical standards and providing compassionate healthcare services. We achieve these goals through our clinical care, teaching, and research programs, and we are dedicated to providing our residents with an unparalleled education.
Education
Our faculty and staff are committed to creating and sustaining an optimal educational environment for acquiring knowledge and developing and honing technical skills in all aspects of orthopedic surgery. We train the next generation of leaders in the field through an array of opportunities that include teaching, research, and clinical activities. In addition to educating residents and medical students, we offer continuing medical education opportunities to healthcare professionals who wish to further their education.
Research
Our basic, clinical, and translational research programs are aimed at improving outcomes and quality of life for patients with a wide range of orthopedic conditions. We investigate, validate, and introduce promising new methods of treating disorders that affect the joints, muscles, and bones. Learn more about research happening within our divisions and at NYU Grossman Long Island School of Medicine.
Clinical Services
As part of a top-rated academic medical center, we combine outstanding personalized care with advanced treatments and expert services. Our orthopedic specialists treat the simplest to the most complex conditions involving the musculoskeletal system. Our services are conveniently accessible in multiple locations throughout the Long Island area.
Orthopedic Patient Care Locations
NYU Langone Ambulatory Care Bethpage
NYU Langone Ambulatory Care East Meadow
NYU Langone Ambulatory Care Lake Success—1999 Marcus Avenue
NYU Langone Family Medicine Associates—North Babylon
NYU Langone Huntington Medical Group
NYU Langone Orthopedic Associates—Garden City
Podiatry Patient Care Locations
NYU Langone Ambulatory Care East Meadow
NYU Langone Family Medicine Associates—North Babylon
NYU Langone Huntington Medical Group
NYU Langone Long Island Podiatry Associates—Mineola
Fragility Fracture Service
We also offer the Fragility Fracture Service, a multispecialty program designed to provide the best care possible for patients who have experienced fractures related to osteoporosis. A majority of these injuries are fractures of the hip, which in almost all cases benefit from surgical intervention. The Fragility Fracture Service team incorporates geriatrics, nursing, orthopedics, physical therapy, appropriate medical subspecialties, and other ancillary support including social work and patient care managers. The goal of this service is to maximize the quality and efficiency of hip fracture care while improving outcomes and reducing complications.
In addition, there is a focus on bone health and medical management of osteoporosis, which can help prevent fractures from occurring. At our outpatient bone health clinic, we provide screening, diagnosis, and individualized treatment plans for bone health, osteopenia, and osteoporosis. Among the first organized Fragility Fracture Services in the United States, our program continues to be a model used by other institutions.
Total Joint Replacement Program
The Total Joint Replacement Program is a multidisciplinary educational program we offer patients who are preparing to have joint replacement surgery. The goal of the program is to alleviate patient concerns regarding the hospital experience.
Patients are provided with the opportunity to interact with healthcare providers from various disciplines who will be contributing to their care before the procedure, along with follow-up education and communication regarding the entire joint replacement experience. This multidisciplinary program focuses on services that provide support to the patient and their family, beginning with a preoperative educational class and continuing throughout the patient's recovery and beyond.
Contact Us
For general questions regarding NYU Grossman Long Island School of Medicine's Department of Orthopedic Surgery, please contact us at orthopedicsurgeryli@nyulangone.org.
Our Leadership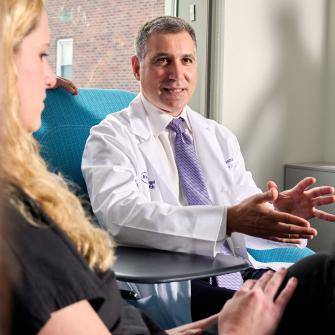 Our Divisions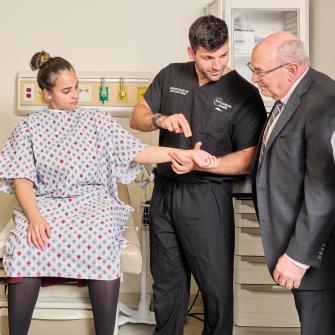 Our Education Programs