Division of Geriatric Medicine
Geriatric Medicine Fellowship

Geriatric Medicine Fellowship
The Department of Medicine at NYU Grossman Long Island School of Medicine, located in Mineola, New York, offers a one-year Geriatric Medicine Fellowship that provides fellows high-quality clinical and academic experiences to graduate as expert geriatricians.
Fellows gain the knowledge, skills, and confidence necessary to provide expert care for a wide range of older adult populations, including functionally independent community dwellers, frail nursing home residents, and acutely ill hospitalized patients. Fellows also have opportunities to gain valuable research experience through our program. Learn more about our Geriatric Medicine Fellowship research projects.
The fellowship program, led by Lucy O. Macina, MD, FACP, has been accredited by the Accreditation Council for Graduate Medical Education (ACGME) since its inception in 1990. Learn more about the Geriatric Medicine Fellowship from our alumni.
The Geriatric Medicine Fellowship at NYU Grossman Long Island School of Medicine enables our fellows to accomplish the following:
gain knowledge in geriatric medicine through clinical experience and didactic sessions so that upon completion of the fellowship, fellows will be competent to provide comprehensive care to older patients and pass the geriatric certifying examination
attain skills in clinical geriatric medicine to provide excellent care in the inpatient, outpatient, nursing home, and home settings
learn how to provide transition of care to elderly individuals as they move from various healthcare settings by working with interprofessional teams, and to advocate for improvement in healthcare systems to provide for cost-effective care to the elderly
learn how to monitor and improve the practice of medicine by participating in quality improvement activities
attain attributes of honesty, integrity, and respect for people of all ethnic, cultural, religious, and gender backgrounds
learn how to plan ahead, balance duties of life and work, and work in a collegial manner with other physicians, nurses, physician assistants, and administrative staff
develop skills to appropriately communicate with patients and families about their health and treatment, and to develop skills in discussions related to end-of-life and goals of care
Our expert and highly dedicated faculty, who regularly present at national and state meetings and hold leadership positions in various academic geriatric organizations, provide close supervision and mentoring in all clinical settings. In addition to certification in geriatric medicine, our core faculty also hold board certifications in clinical pharmacology and hospice and palliative medicine, which translates to a rich educational experience for fellows. Our attending faculty to fellow ratio is 2-to-1.
Geriatric clinical pharmacology, neuropsychology, hospice and palliative medicine, and clinical ethics are integrated into the academic structure at NYU Grossman Long Island School of Medicine. Fellows also work closely with a neuropsychologist to learn how to perform cognitive assessments. Our teaching staff includes a certified geriatric pharmacologist and a licensed social worker specializing in geriatric medicine. Palliative experiences include training with hospice- and palliative-certified physicians and nurse practitioners, and a licensed social worker specializing in palliative care.
Our one-year curriculum focuses on gaining comprehensive clinical skills in a number of settings. We provide outpatient experiences in neurology and physical medicine and rehabilitation, as well as training in wound care, urology and urogynecology, and skilled nursing facility medical directorship. Graduates of our Geriatric Medicine Fellowship have pursued a variety of careers including as medical directors, private practitioners in a range of settings, geriatric hospitalists, and geriatric academics, as well as pursued additional subspecialty training.
Learn more about the Geriatric Medicine Fellowship from our alumni.
Clinical Training
Your clinical training takes place at NYU Langone Hospital—Long Island and other skilled nursing home and outpatient settings. Our fellowship offers both primary care–based and subspecialty-based geriatric medicine, preparing you for your choice of diverse career paths. Fellows are active participants, functioning as a junior attending or primary physician on most rotations. You rotate through a wide array of geriatric care services:
inpatient service, providing care to hospitalized older adult patients as primary hospital care providers and through geriatric medicine consults
outpatient practice, including home visits and assisted living facility visits, in addition to the weekly continuity clinic
skilled nursing facility for subacute rehabilitation and long-term care
geriatric psychiatry, with a focus on the consultation–liaison service
palliative and hospice care, including home hospice visits
physical medicine and rehabilitation, focusing on neurophysiatry and musculoskeletal physiatry in both outpatient and inpatient settings
neurology, focusing on neurologic conditions prevalent in older adults, such as movement disorders, strokes, and seizures, in the outpatient setting
optional electives in palliative care, wound care, and nursing home medical directorship
Palliative Care Elective
The palliative care elective at NYU Grossman Long Island School of Medicine is a specialized educational experience that provides additional palliative training. In addition to the one-month inpatient palliative/home hospice rotation that all fellows receive, fellows who choose the palliative care elective have an additional two-week palliative experience. The additional experience includes one week at Calvary Hospital and one week focused on the inpatient hospice/inpatient palliative care unit with an affiliated hospice agency.
Wound Care Elective
The wound care elective is a focused educational experience that provides specialized wound care training with the NYU Langone Hospital—Long Island Wound Healing team. Fellows spend two weeks with the team focusing on topical wound care treatments, debridement (at the bedside and in the operating room), and hyperbaric treatments. In addition to wound care management, fellows are trained on wound care risk assessment and multifaceted approaches to improve wound healing.
Nursing Home Medical Directorship Elective
The nursing home medical directorship elective is a specialized experience beyond the traditional nursing home experiences in the Geriatric Medicine Fellowship. Fellows spend two weeks at an affiliated skilled nursing facility with a certified medical director. This rotation focuses on administrative nursing home duties in a large nursing home environment that provides complex care including hemodialysis and many other specialty care services on-site.
Geriatric Medicine Fellowship Image Gallery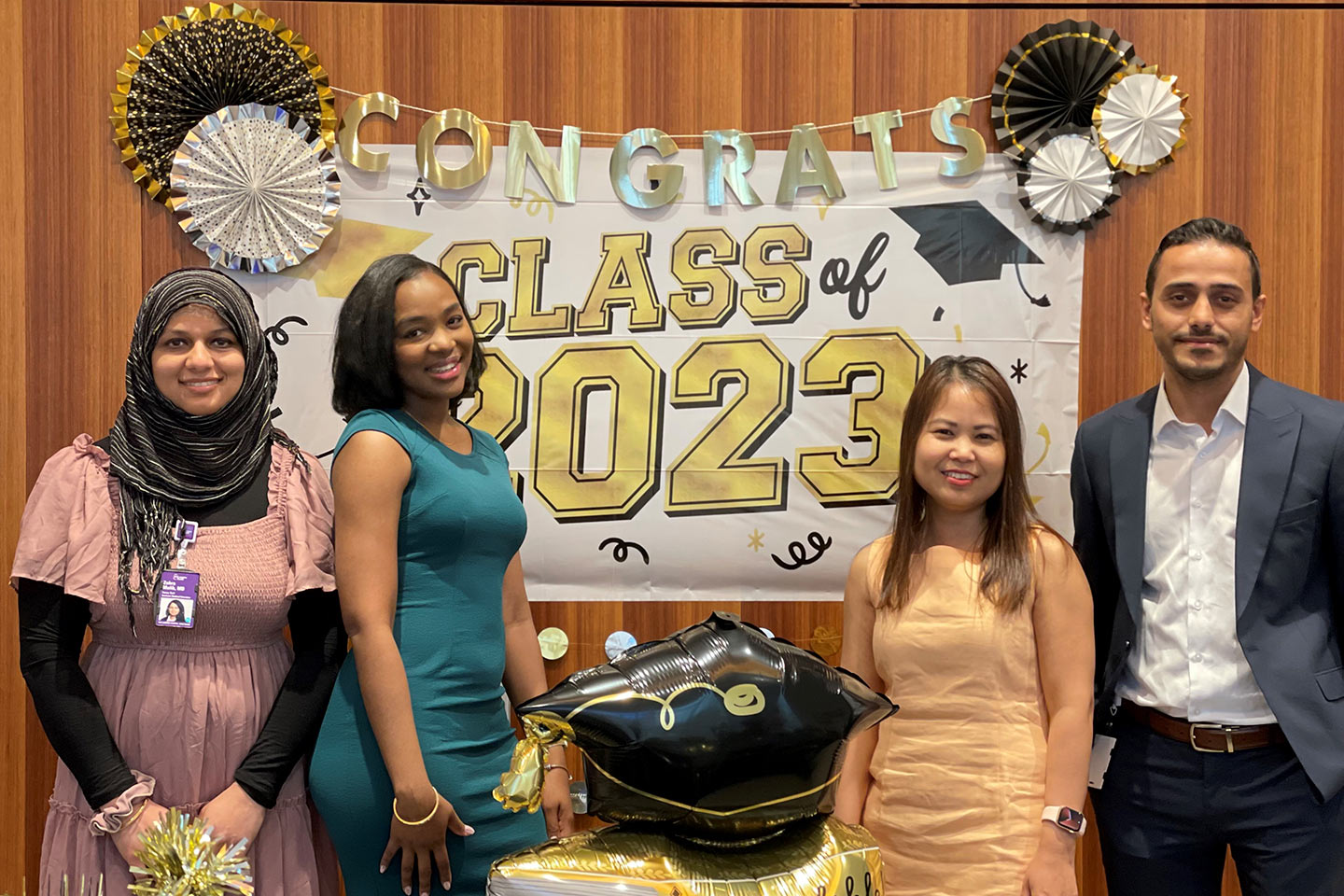 We celebrate and recognize our fellows' hard work and achievements each year at graduation.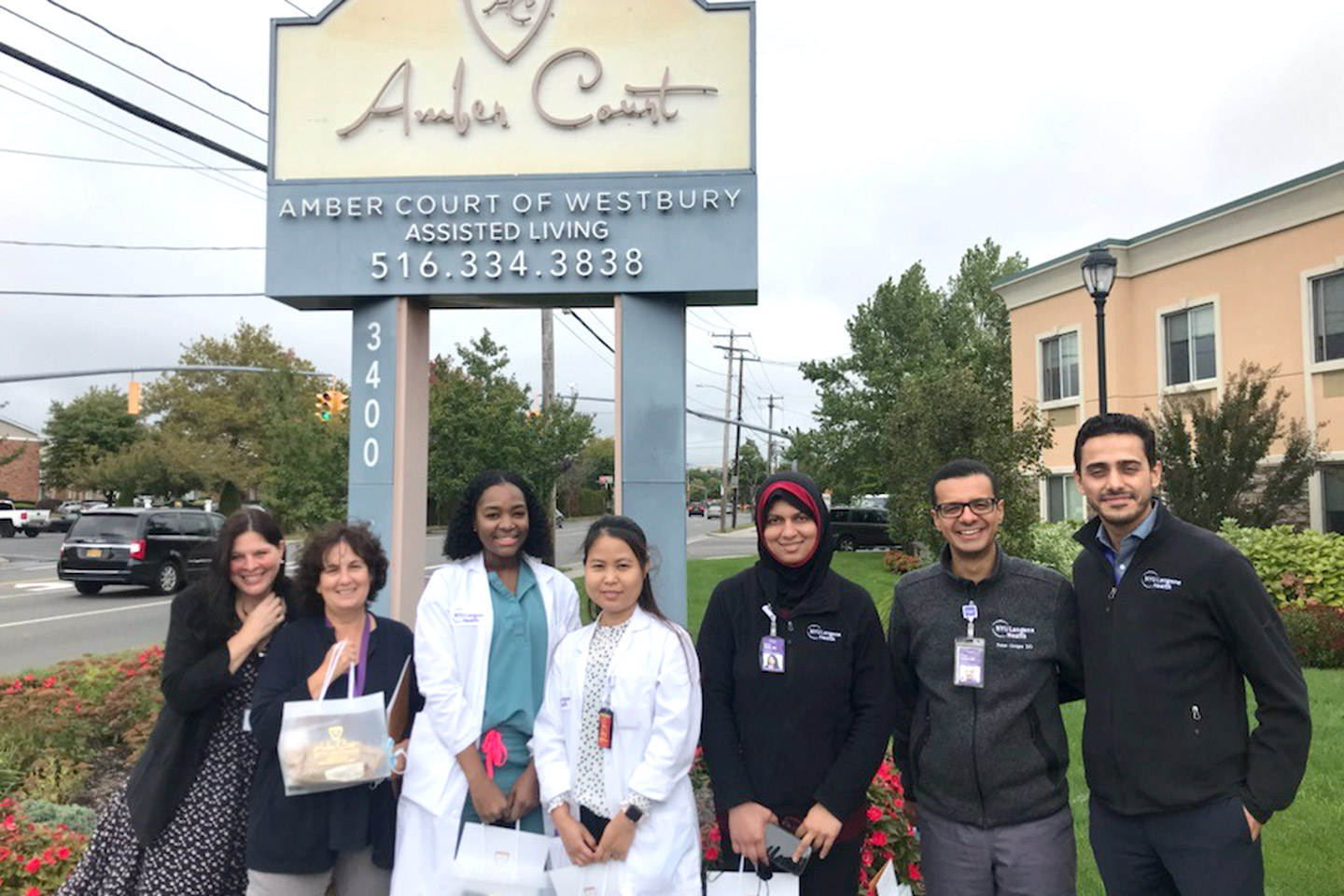 Fellowship training includes varied outpatient clinical experiences such as visiting assisted living facilities.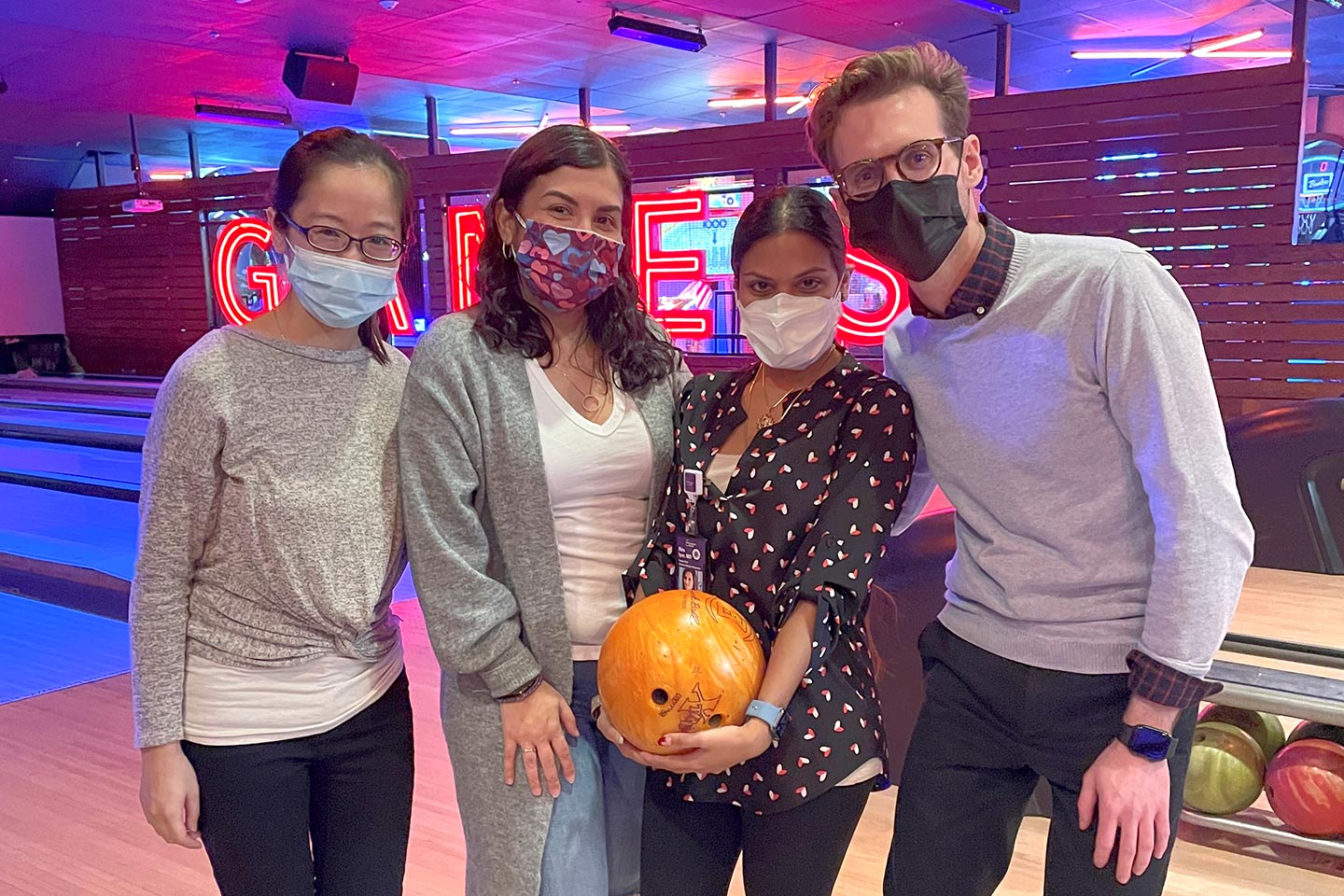 Outside of our rigorous didactic and extensive clinical training, our fellows make time to take breaks and to maintain a good training–life balance.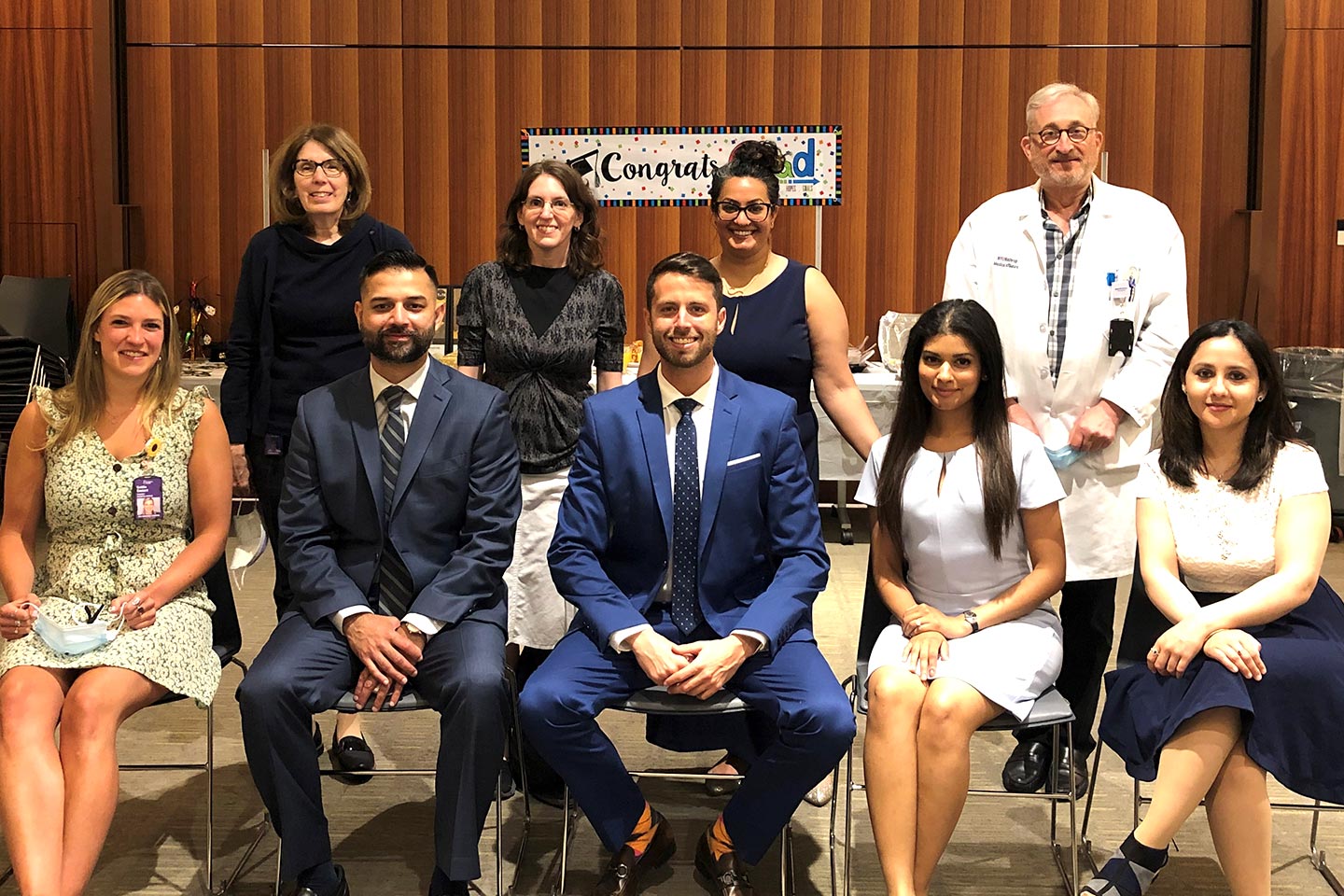 Our fellowship graduates stay connected with NYU Langone and are invited to attend Geriatric Medicine Grand Rounds via web conferencing.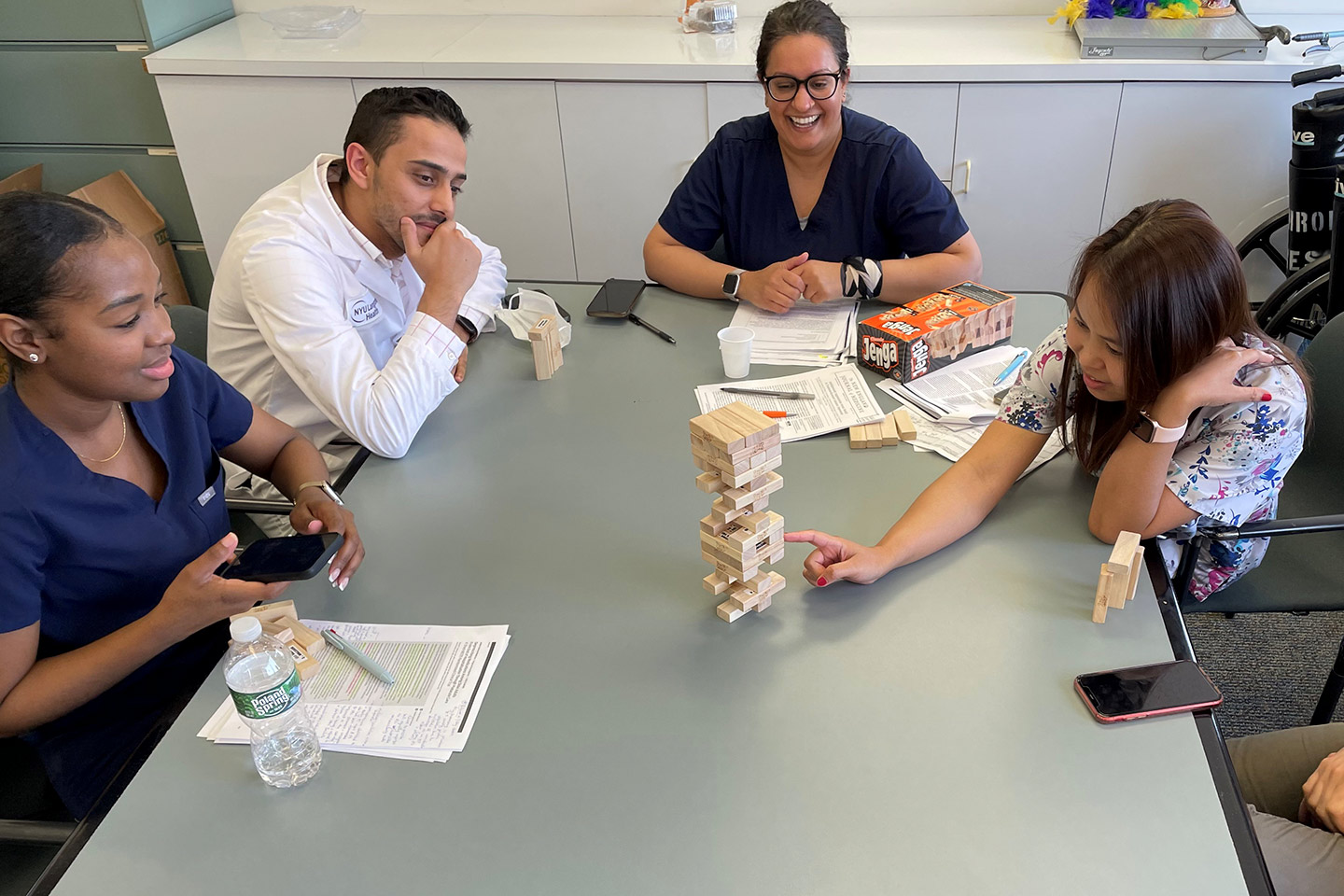 As part of our extensive didactic curriculum, fellows attend conferences—here they are playing Jenga to select questions for board review!
Our program's ratio of attending faculty to fellows is 2-to-1, which means fellows and faculty work very closely together and also enjoy bonding activities.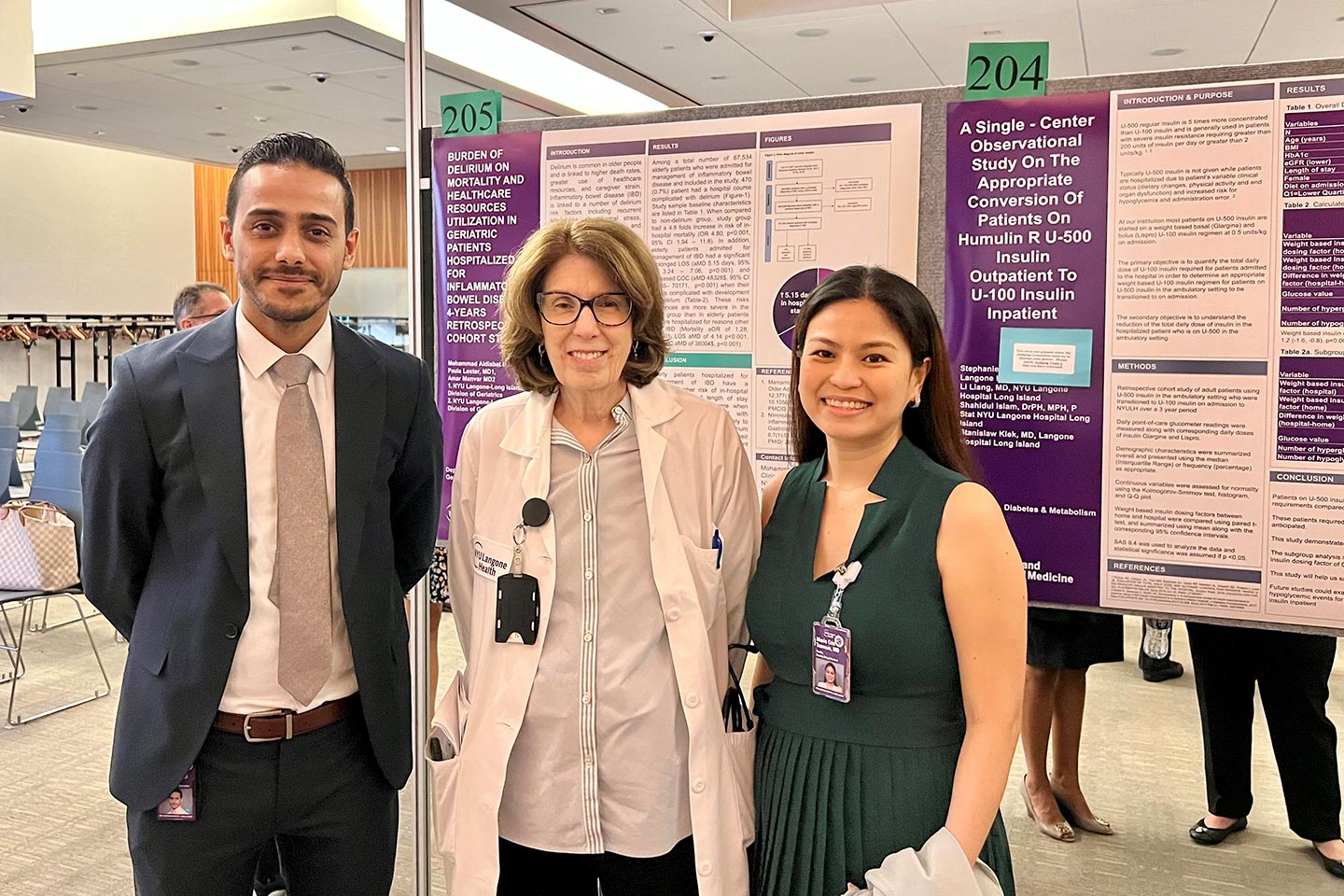 We encourage fellows to conduct research projects with faculty and present at conferences such as NYU Grossman Long Island School of Medicine's annual Research Day.
Didactic Training
The Geriatric Medicine Fellowship at NYU Grossman Long Island School of Medicine offers an extensive academic and didactic curriculum. Fellows attend conferences including Geriatric Ground Rounds, journal club, board review, and core conferences. In these conferences, fellows receive the latest updates in treatments related to the care of older adults, hear from faculty and guest speakers, prepare articles for presentation, and learn how to approach patient care with a team-based problem-solving approach.
Fellows also participate in multidisciplinary conferences and series. Among them is the Alzheimer's case conference, which includes physicians, nursing, and social work staff from neurology, psychiatry, geriatric medicine, home care, and other fields. Our neuropsychology series, presented by a neuropsychologist, addresses the role of neuropsychology testing in diagnosing dementia and other cognitive disorders. Regional leaders in nursing home medical directorship roles also present to fellows.
Fellows are encouraged to participate in the biannual educational meetings of the New York Medical Directors Association and the educational meetings of the Metropolitan Area Geriatrics Society. All fellows are involved with teaching medical students, interns, and residents from NYU Grossman Long Island School of Medicine.
How to Apply
NYU Grossman Long Island School of Medicine accepts applications through the Electronic Residency Application Services (ERAS) and participate in the National Resident Matching Program, also known as The Match. Your application must include the following items:
a common application form
your CV
a personal statement
a transcript from your medical school
scores from the U.S. Medical Licensing Examination (USMLE) or the Comprehensive Osteopathic Medical Licensing Examination (COMLEX-USA)
a valid Educational Commission for Foreign Medical Graduates (ECFMG) certificate, if applicable
scores from the National Board of Medical Examiners (NBME)
your visa status
three letters of recommendation
Four fellowship positions are available each year.
Contact Us
For more information about our Geriatric Medicine Fellowship, please contact the director, Lucy O. Macina, MD, FACP, at lucy.macina@nyulangone.org or 516-663-4640.
You may also contact Jennifer Brown, academic coordinator of the Division of Geriatric Medicine, at jennifer.brown2@nyulangone.org.
Learn more about graduate medical education programs at NYU Grossman Long Island School of Medicine, including our commitment to diversity, and access information for house staff such as benefits, policies, and services.