Department of Obstetrics & Gynecology
We provide our community with exceptional patient care and lead innovative programs in education and research.

The Department of Obstetrics and Gynecology at NYU Grossman Long Island School of Medicine has elevated healthcare since 1954, when Winthrop Hospital, now NYU Langone Hospital—Long Island, became the first hospital on Long Island to establish a separate pavilion for obstetrics and gynecology patients. Our faculty, staff, and trainees have since supported and sustained that focus, remaining committed to providing exceptional patient care and the finest educational programs.
Our team has the experience and expertise to provide skilled and compassionate care, whether a patient is experiencing routine labor or requires fetal surgery or complex treatment for gynecologic cancer. Faculty in our subspecialty divisions routinely collaborate to ensure that every patient receives comprehensive care.
Obstetrics and Gynecology Education
As educators, we welcome the next generation of physician leaders in obstetrics and gynecology to train alongside our accomplished physicians. We offer an accredited residency through which trainees gain the skills, knowledge, and experience they need to provide primary care, and also to serve as consultants to other physicians regarding all healthcare issues.
We offer three post-residency fellowship programs: a three-year program in maternal–fetal medicine, a two-year program in minimally invasive and robotic surgery, and a one-year program for obstetrics and gynecology hospitalists. Our fellows develop expertise in the prevention, diagnosis, and management of patients with high-risk pregnancy conditions, as well as those requiring expert minimally invasive gynecologic surgery and safe in-hospital urgent care.
We lead a six-week clinical rotation for medical students in their clerkship years who are interested in building a foundation in obstetrics and gynecology. In addition, we offer subinternship rotations for medical students who are interested in pursuing residency in obstetrics and gynecology.
Obstetrics and Gynecology Research
Our faculty lead innovative research programs to study and develop treatments, techniques, and devices that improve the lives of people in our care. We investigate, test, and introduce promising new approaches—for both in-person and telemedicine visits—for a variety of obstetric and gynecologic conditions including preterm birth, antepartum fetal surveillance, fetal congenital anomalies, COVID-19 infection in pregnancy, pregnancy loss, cancer, and infertility. We also lead a nationally recognized fetal surgery program, which has established new treatment methods for prenatally diagnosed abnormalities.
Department research has been traditionally supported by funding from industry, including the ultrasound and prenatal diagnosis industry, among others. Learn more about research happening within our divisions and at NYU Grossman Long Island School of Medicine.
Obstetrics and Gynecology Clinical Services
NYU Langone Hospital—Long Island is one of the region's leading medical centers for obstetrics and gynecology. Our resources include a Level 3 Neonatal Intensive Care Unit, and we are designated as a Regional Perinatal Center by New York State for delivering the highest level of prenatal and newborn care. Our service has been recognized by a Baby-Friendly designation by Baby-Friendly USA in recognition of our commitment to supporting breastfeeding mothers.
At NYU Langone Hospital—Long Island's New Life Center, we perform more than 5,000 deliveries. We also perform 2,000 major and 3,000 minor gynecologic surgeries each year. In addition, we lead the only fetal surgery program on Long Island as part of NYU Langone's Fetal Diagnosis and Treatment Program.
Learn more about the wide range of interdisciplinary and inclusive obstetrics and gynecology services provided by our team.
Contact Us
If you have questions about our department, please email Jennifer Gianunzio, administrative director, at jennifer.gianunzio@nyulangone.org.
Our Leadership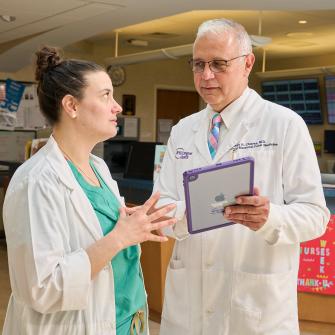 Our Divisions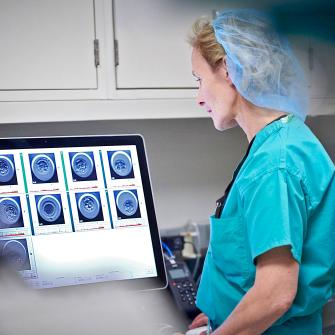 Our Education Programs