Resources for Current MD Students
Transitioning to Medical School Week for New MD Students

Transitioning to Medical School Week for New MD Students
During NYU Grossman Long Island School of Medicine's Transitioning to Medical School Week, which takes place July 17 to 21, 2023, students learn about our innovative three-year curriculum, participate in dynamic learning activities, and learn about academic and career resources. You have a chance to meet leadership, course directors, faculty, advisors, and staff; review school policies and procedures; and tour our medical school and hospital campus. You can also explore the local community and get to know your classmates and senior medical students during planned social activities.
New Student Checklist
All students must complete the following tasks to prepare for life on campus at NYU Grossman Long Island School of Medicine. Our Office of Student Affairs will contact you and provide detailed instructions and tips to help you begin working on your checklist.
Set Up Your Email Account
Your NYU Grossman Long Island School of Medicine email account is your primary line of communication for all official school correspondence. Once you receive the instructions and your account is set up, please check it daily for important information about Transitioning to Medical School Week events and your upcoming classes.
Pick Up Your ID Cards
Students are required to have an NYU Grossman Long Island School of Medicine photo ID card to access many locations on campus. During Transitioning to Medical School Week, you report to NYU Langone Hospital—Long Island's Security Office at 222 Station Plaza North, Floor 2 to have your photo taken and pick up your ID card.
The Security Office is open Monday through Friday, 7:00AM to 4:00PM.
Students also need an NYU-specific photo ID card, called the NYUCard, to access other student services, which you also receive during this week.
Participate in Compliance Training
At NYU Grossman Long Island School of Medicine, you have access to real patient data as part of your training, which is permitted by federal regulations for educational purposes. All students must complete compliance training in the Health Insurance Portability and Accountability Act, or HIPAA, to protect patient privacy. You must also complete a Code of Conduct training module to ensure that you understand the obligations that are part of working for Medicaid and Medicare healthcare providers.
Compliance training is completed online. The FOCUS System on atNYULMC.org tab, the intranet for NYU Langone Hospital—Long Island employees, is available 24 hours a day (a Kerberos ID and password are required). Instructions on accessing these training modules are sent to your NYU Grossman Long Island School of Medicine email address.
Choose Your Health Benefits
We provide students with comprehensive health insurance. Medical students are automatically enrolled in medical and prescription coverage (individual coverage). This coverage cannot be waived.
You must take action by the annual enrollment deadline only if you wish to enroll dependents on your medical and prescription coverage or if you would like to enroll yourself and eligible dependents in dental coverage. Visit the Benefits Portal (Kerberos ID and password are required) for plan details and enrollment instructions.
The NYU Langone Benefits Services Department processes all student health insurance information. If you need assistance or have questions, email Benefits Services at nyulmcbenefits@nyulangone.org or call 212-404-3787.
Fill out the Matriculating Student Questionnaire
All incoming medical students must complete the Association of American Medical Colleges (AAMC) online Matriculating Student Questionnaire (MSQ). Topics include premedical school experiences, medical school selection, career interests, and educational financing.
The AAMC reports data back to participating medical schools, which use them to adjust educational programs to better meet students' needs.
You receive an invitation to complete the questionnaire at the email address you provided upon registration with the American Medical College Application Service.
Participate in White Coat Ceremony
NYU Grossman Long Island School of Medicine's White Coat Ceremony, an essential part of transitioning to medical school, takes place on July 21, 2023 at 11:00AM. Although medical students traditionally take the Hippocratic Oath at the end of medical school, they treat patients throughout their training. The Arnold P. Gold Foundation established the White Coat Ceremony in 1993 as a rite of passage for incoming medical students to affirm their professional commitment and acknowledge their primary role as caregivers. This ceremony or similar symbolic rites of passage take place each year at more than 93 percent of U.S. medical schools.
The white coat is a symbol of professionalism, compassion, and honor in medicine. Through this ceremony, our deans and faculty are setting standards for you to uphold on your journey to becoming a physician. In the presence of family, friends, and colleagues, you appear onstage to be "cloaked" in your first white coat.
MEDLI White Coat Ceremony Image Gallery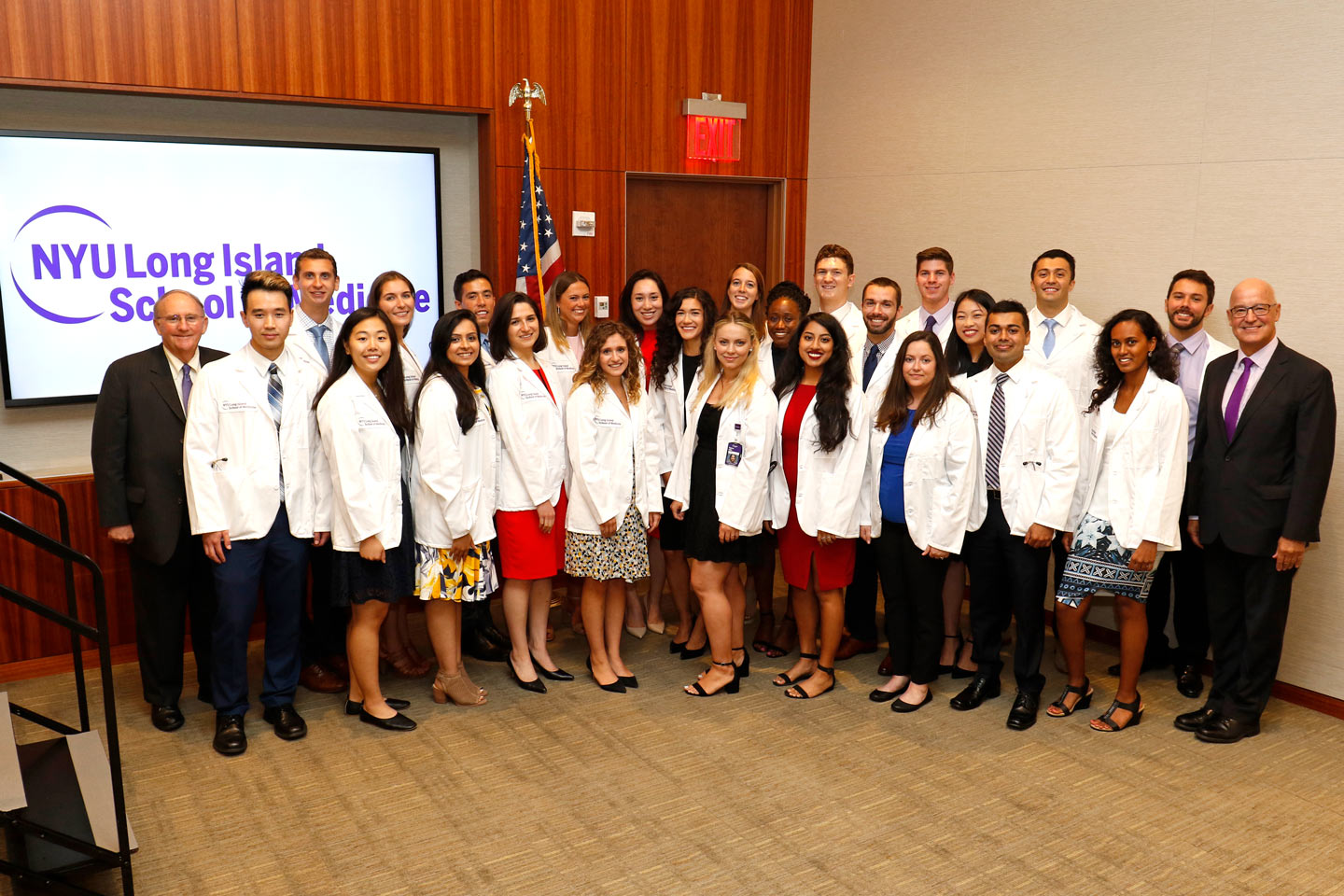 Dr. Steven Shelov and Dr. Andrew D. Hamilton, president of NYU, with the first class in our inaugural White Coat Ceremony.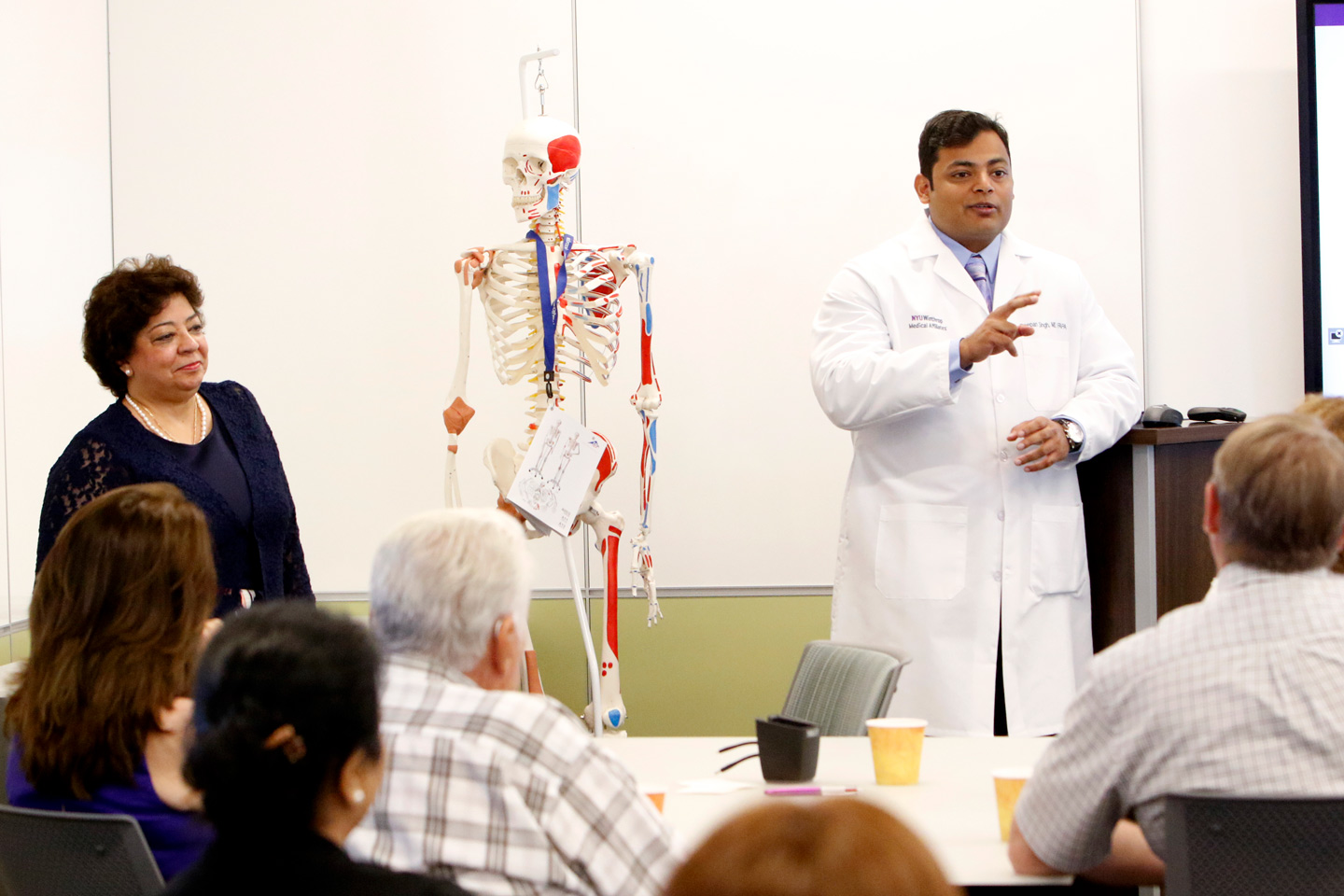 Dr. Gladys Ayala and Dr. Deepan Singh addressing families and guests prior to the ceremony.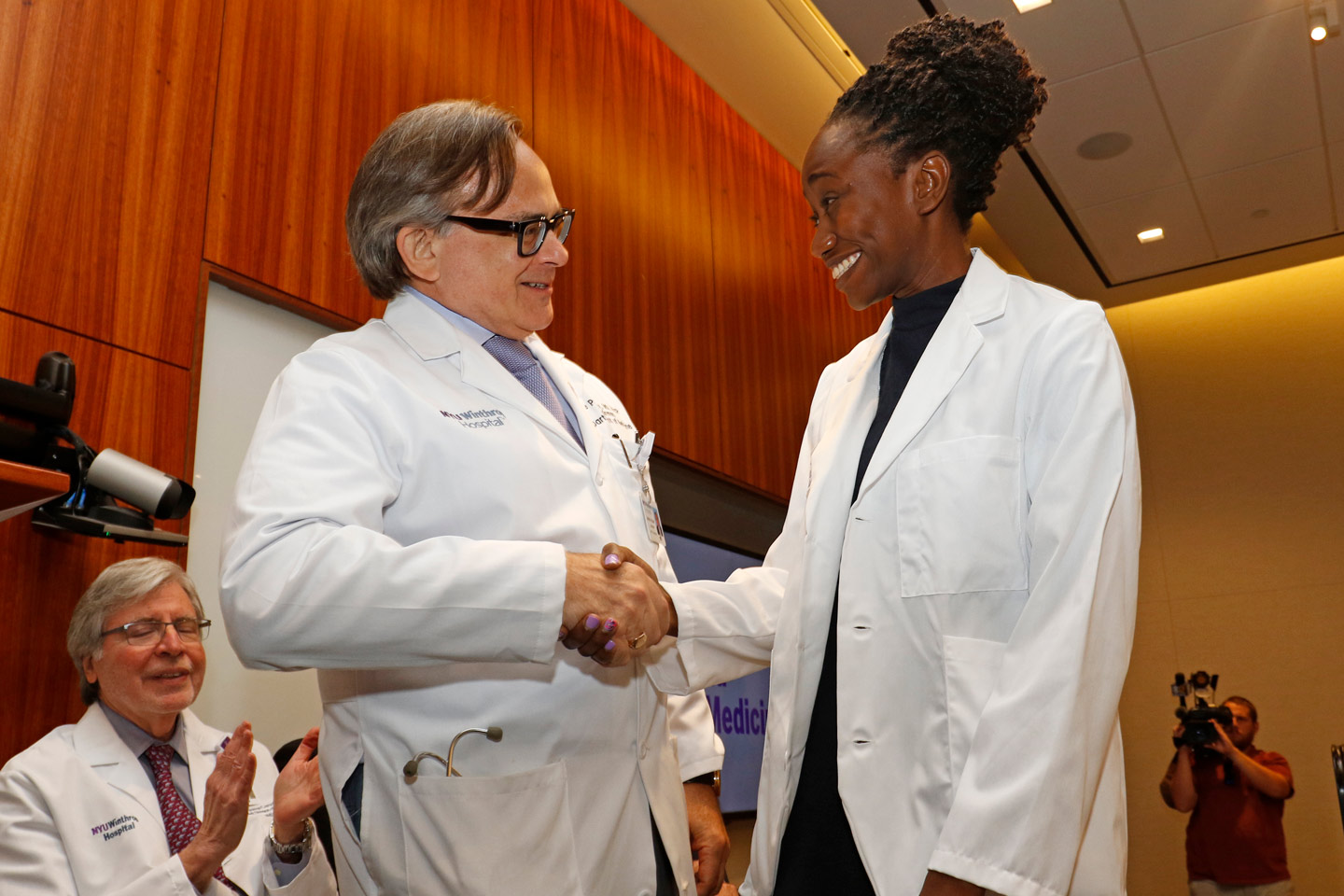 Dr. Bruck Polsky congratulates student Shekinah Dosunmu on her white coat.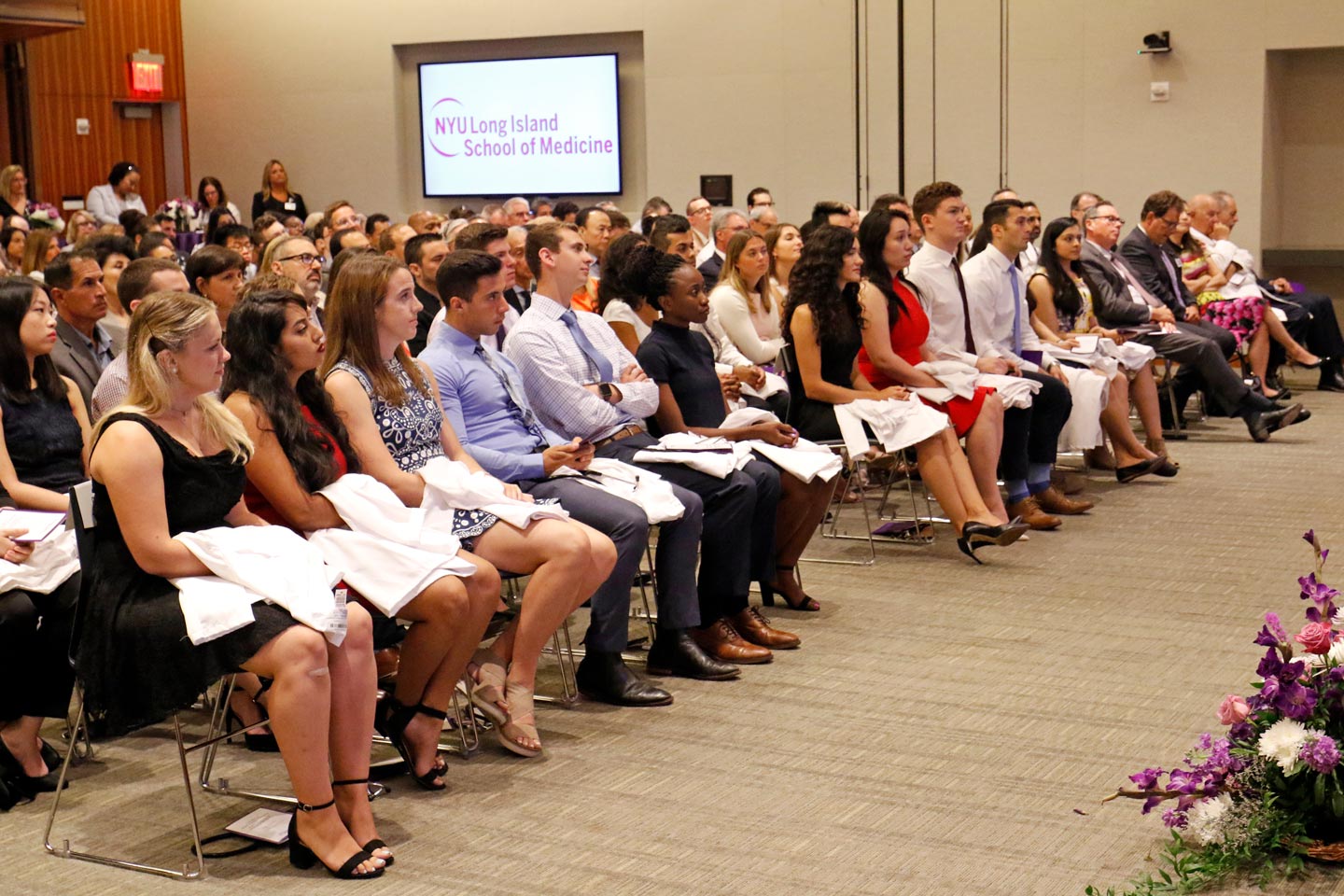 Our White Coat Ceremony includes several speakers and presentations.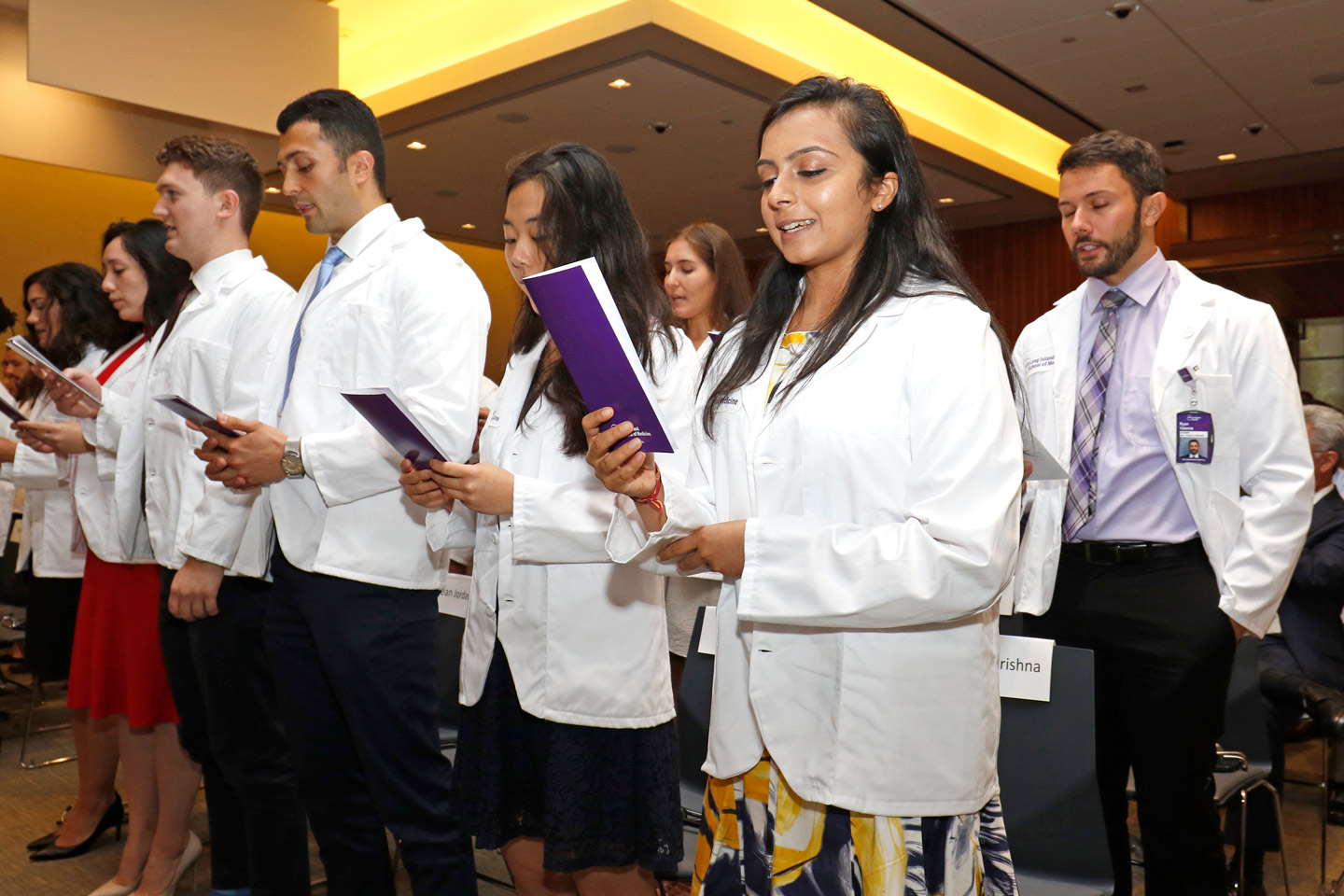 Students reciting the Hippocratic Oath to acknowledge their commitment to serving humanity with honor, compassion, and dignity.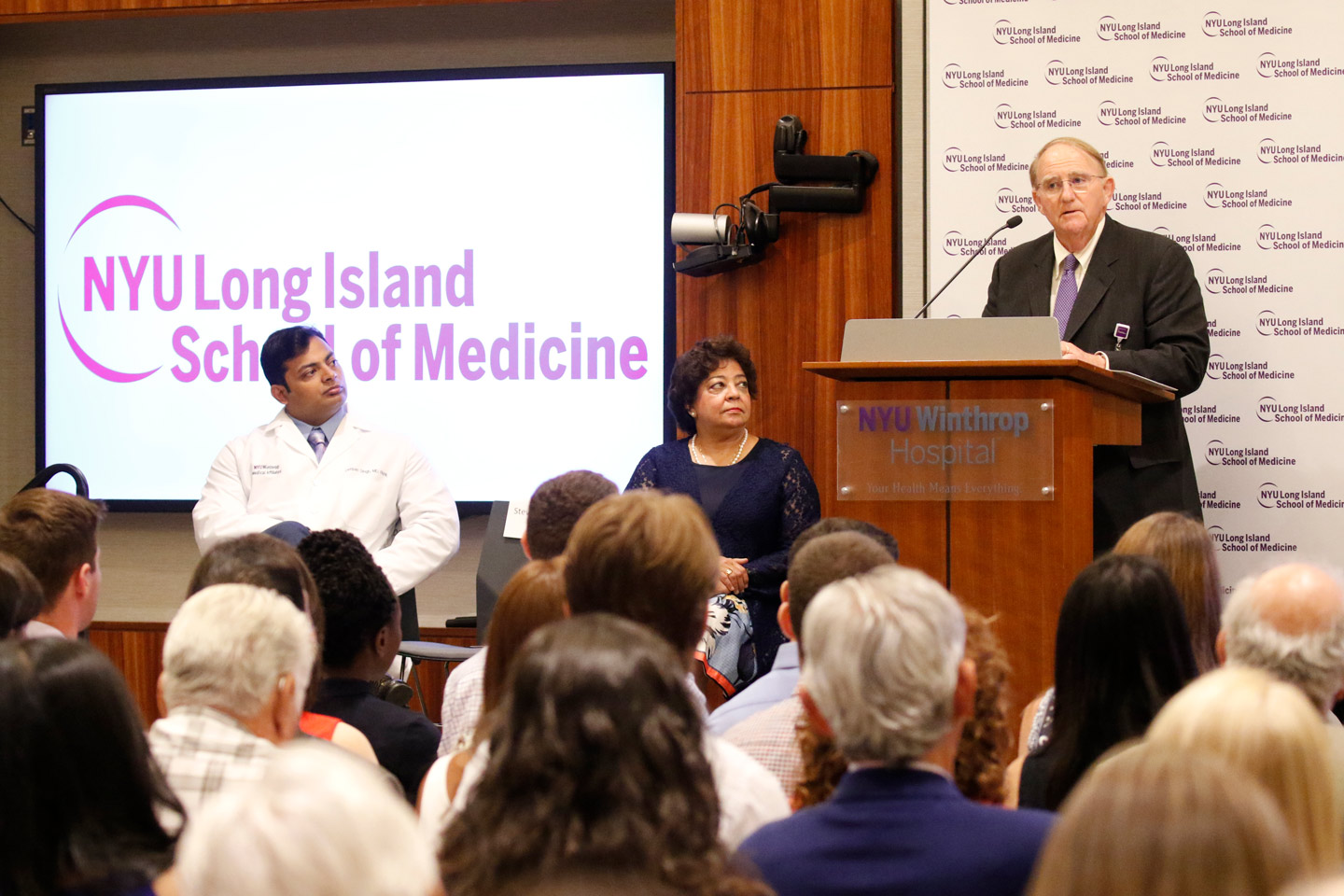 Dr. Steven Shelov addressing students, family, friends, and faculty leadership during the ceremony.
Contact Us
NYU Grossman Long Island School of Medicine's Office of Students helps you adjust to life on campus. For questions or assistance, contact us at 516-240-7200 and select option 2 or at lisom.students@nyulangone.org. We are located at 101 Mineola Boulevard, Floor 2, Suite 2-084.