Emergency Medicine Training for Medical Students
Emergency Medicine Subinternship Elective

Emergency Medicine Subinternship Elective
NYU Grossman Long Island School of Medicine's Department of Emergency Medicine welcomes visiting students for a four-week subinternship elective. The course is intended to offer an advanced experience to students pursuing a career in emergency medicine, enabling students to deepen their specialty-specific knowledge and develop clinical skills and self-directed learning habits.
Just as our patients have diverse needs and perspectives, emergency medicine professionals have differing learning styles, personal responsibilities, and growth areas. We aim to provide a customized experience, including active learning, mid-rotation feedback, and flexible shift scheduling. Available subspecialty shifts include pediatric emergency medicine, emergency medical services, point-of-care ultrasound, and critical care.
Our students work directly with attending physicians at NYU Langone Hospital—Long Island and connect with a faculty member through a dedicated mentorship.
Our didactics prioritize active learning and case-based seminars. Students also practice solving clinical problems at our leading-edge NYU Langone Hospital—Long Island Simulation Center.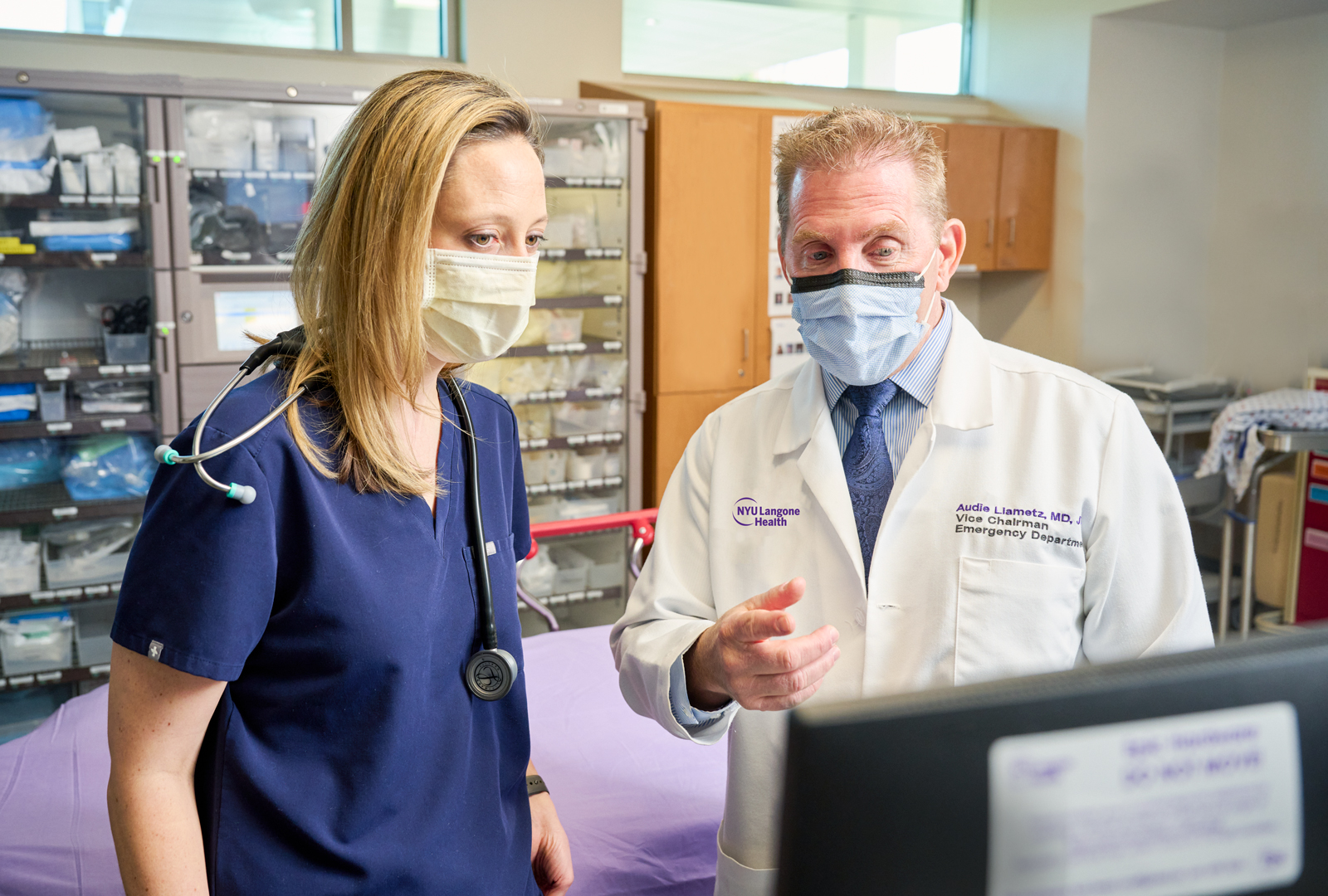 Clinical Training Location
The Emergency Department at NYU Langone Hospital—Long Island is an optimal place for students to experience the breadth of contemporary emergency medicine. As a STEMI Receiving Center, a Comprehensive Stroke Center, and an American College of Surgeons–verified Level 1 Trauma Center, we work closely with leaders from multiple specialties to provide rapid, definitive care to the diverse communities of Nassau County.
Clinical Objectives
An emergency medicine student is often the first clinician that a patient encounters. Therefore, identifying acutely ill patients and communicating equitably and effectively are crucial objectives for students training in emergency medicine. Our students develop a focused differential diagnosis and treatment plan under the direct supervision of the emergency medicine attending physician. Students work 16 shifts of 9 hours each in the Emergency Department at NYU Langone Hospital—Long Island, where they manage multiple patients simultaneously and collaborate with the interprofessional team to prepare for the expectations of residency. Procedural skills are taught in both clinical and simulated environments, including airway management, electrocardiogram interpretation, ultrasound imaging, wound care, and orthopedic injury management.
Didactic Curriculum
Interactive lectures, skill sessions at our Simulation Center, and traditional department activities are only part of our program to nurture the emergency medicine–specific knowledge of our students. Faculty-led, small group, case-based seminars cover crucial topics. Students also identify their own knowledge gaps throughout the course and allot study time to learn current evidence-based practices, culminating in a brief, flexible-format presentation for an audience of peers.
Mentoring and Evaluation
Preceptors assess students' clinical competencies in daily evaluations on a scale of entrustability. Each student is paired with a faculty mentor who has a special interest in medical education. The faculty mentor precepts the student on multiple shifts to offer guidance, assess growth, and provide insights for the final evaluation. Faculty compose an electronic Standardized Letter of Evaluation (eSLOE) for each student completing the course.
How to Apply
The Emergency Medicine Subinternship Elective is offered to visiting medical students who have completed the core clerkships required by their home institution. Four-week rotations are available continuously throughout the academic year, with the schedule beginning the first Monday in July and skipping the last week of December.
Interested students should use the Visiting Student Learning Opportunities application service provided by the American Association of Medical Colleges (AAMC). Applications are accepted on a rolling basis beginning in May.
Visiting Student Diversity Scholarship
The Department of Emergency Medicine, as part of a commitment to increasing diversity in our specialty, offers a limited number of scholarships to students from racial or ethnic groups underrepresented in medicine. Funds are intended to defray the cost of travel and housing while rotating at our institution. Application materials are available by emailing the course director and administrative coordinator.
Contact Us
For general inquiries about the elective, email Erin K. Gonzalez, MD, course director, at erin.gonzalez@nyulangone.org, or Rita Francique, administrative coordinator, at rita.francique@nyulangone.org or 516-663-2496.