Emergency Medicine Subspecialties
Emergency Medicine Simulation

Emergency Medicine Simulation
The Department of Emergency Medicine at NYU Grossman Long Island School of Medicine has invested tremendous effort in simulation education, offering trainees a depth of experience that prepares them to enter the field with confidence. Understanding challenging clinical scenarios and how to best perform as a clinician is a necessary skill for specialists in emergency medicine. Simulation education has radically transformed medical education, as it provides a safe and engaging environment for learners to perform in emergent situations, especially for high-acuity, low-frequency events.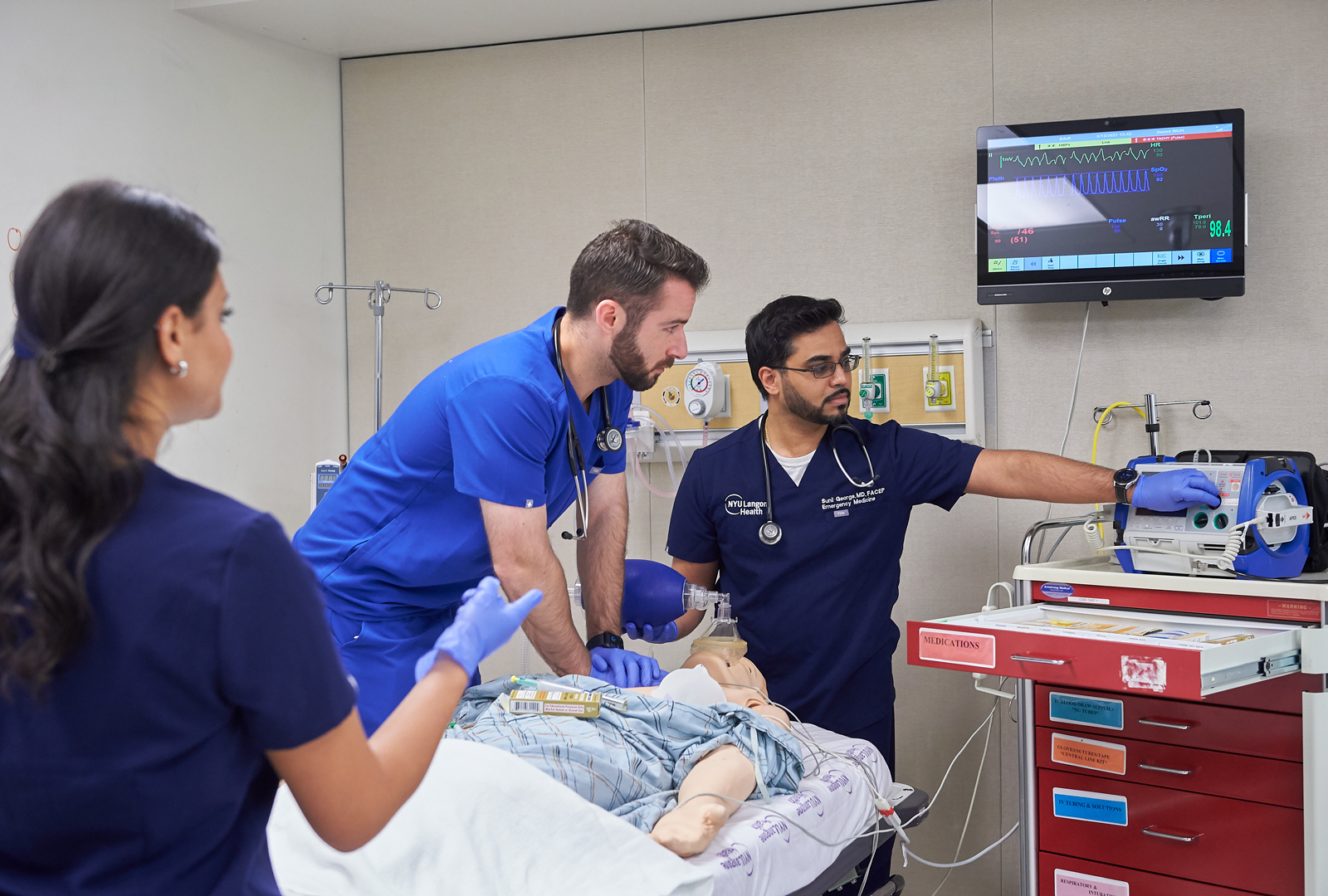 Learners of all types and levels refine a multitude of skills at the NYU Langone Hospital—Long Island Simulation Center, including practicing trauma codes, code team skills, procedural skills such as placing a central line or chest or endotracheal tube, or stabilizing the decompensating patient, among a host of other programs. The 5,000-square-foot facility provides an optimal atmosphere for clinical training and education offered to attending physicians, nurses, residents, and medical students at NYU Grossman Long Island School of Medicine, as well as other health professionals and first responders such as emergency medical technicians (EMTs), police officers, firefighters, and safety and security officers.
Whether simulating a resuscitation in a trauma bay or a multiple-casualty incident event, our large multipurpose simulation room is the site where many critically ill simulated patients are waiting to be saved. Learners can work with a family of tetherless simulation manikins, from infant to adult, and be immersed in high-fidelity realistic experiences. Trainees practice physical exam skills, history-taking skills, and communication in one of our four patient exam rooms where learners interact with standardized patients.
Our training faculty provide feedback based on performance, which facilitates improvement. We hold debriefs and educational sessions in our large classroom or conference room to share knowledge and ideas and improve on practice.
Department of Emergency Medicine faculty have a long history of incorporating simulation-based education for both undergraduate- and graduate-level education and research. Our faculty have served in education and leadership roles for the Simulation Center since its inception. As educators at NYU Grossman Long Island School of Medicine, emergency medicine physicians foster the ongoing development of an innovative curriculum. Our expertise in acute and critical clinical scenarios enhances medical student training throughout the degree.
Emergency Medicine Simulation Leadership
Sunil George, MD
Medical Director, NYU Langone Hospital—Long Island Simulation Center
Clinical Associate Professor, Department of Emergency Medicine